Morning, one and all.
Christmas in New York is a pretty awesome time - the decorations come out, markets open up, and shops go out of their way to outdo one another. Last night I, my wife and a friend dropped in to Union Square Holiday Market, filed with the usual tempting but slightly too-expensive-to-buy art, treats and gifts.
And also, famous landmarks
On top of this, I'll be in England in 23 days, and Wales for New Year. So much to be done.
Today's Inspiring Book is one I have been back to time and time again, dipping in when I remember lines, double checking, wanting to show others.
It's also not really meant to be a book.
It is, instead, the collected letters of J. R. R. Tolkien:
It might seem strange that this is on my list of inspiring books. After all, I admitted on this blog that I haven't read Lord of the Rings. That might seem especially odd when you realise my family, and my wife, are all huge Tolkien fans. Huge.
I read Tolkien's letters out of mild interest. I studied Old English at university, and a bit even before then. That Tolkien was a scholar before be was an author made him far more interesting to me, and his philological work and knowledge of world mythology remains just as interesting as his published fiction. The Monsters and the Critics, his academic essays on Beowulf and other matters, changed Anglo-Saxon scholarship forever.
The Letters of J. R. R. Tolkien are fascinating. They start when he was a single, unknown undergraduate at Oxford, and end right before his death. This man was extraordinary, but seeing his ordinary life - his struggles, worries, thoughts on local characters (including C. S. Lewis, of course), on Oxford, and on LOTR as he wrote it, got it published, and then experienced its huge popularity - is something special. It's satisfying to know how it all turns out, as well. When Tolkien writes about his new project, and you realise what it is, you can't help but smile.
His letters to his children, often serving abroad in the war, are also touching and filled with a very keen Christian insight. His letters to his first readers, explaining points of plot or linguistic confusion are also immensely satisfying - Tolkien's grasp of the world he created probably remains the bar against which all other fantasies will be compared.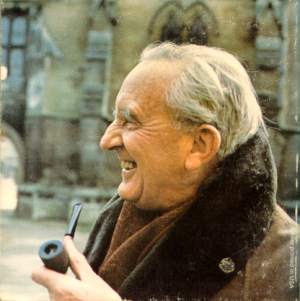 A good, great man
So, inspiring stuff indeed. If my writing, and my mind, are half as good as Tolkien's, for even half of my life, I'll have it made. In the age of e-mail, it's less and less likely we'll be able to read writers' correspondence in this way. We can, though, at least look back at this man, and appreciate even more of who he was.
Go on, be inspired for a bit.